June 23rd 2021
In these contemporary times, every parent is busy preparing their preschooler for this constantly competitive world. Beginning from endless rounds of reciting the poem to correcting their pitch, sound and pronunciation, parents only want their tot to reach the pinnacle of academics. However, we forget that some children are silently fighting with their anxiousness. Maybe because they're shy, they doubt themselves.While some kids have inherent confidence in them, others have a hard time acquiring this much-needed trait. No matter what, we all have been in despair at some point in our lives. Whether it's while learning to drive a car or performing on stage.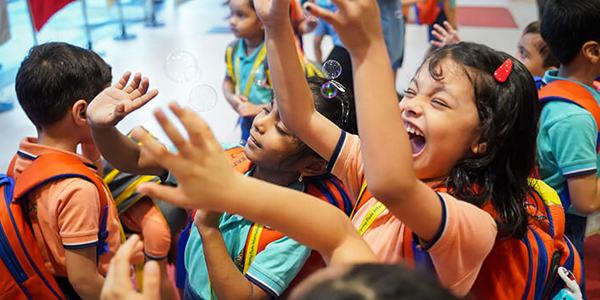 Nevertheless, feeling unconfident at times is okay but accepting this as something permanent is not. We must know how confidence in kids plays a vital role in their success, and there is no specific stage to acquire the same. Thus Spring Buds International Preschool In Thane shares six simple tips on how you can raise a high-achieving confident child effortlessly.
Be a role model
Parents are the most influential individuals as their every action and behaviour impact a kid's life. So if you are a parent, make sure you perform all your daily tasks confidently. It can be an essential source of encouragement for your kid to be confident just like you!
Read inspirational books
Books are a great mode of inspiration and bring along a lot of self-confidence. With different shades of the story in a book, a shy child learns how to become confident and what is the importance of having strong self-esteem in different situations. Introducing your kids to such concepts is one of the best ways to induce confidence in them!
Support their interests
There's always a feeling of happiness and satisfaction when you do what you love. Encouraging your child to perform more activities they are good at or which they purely love to do will not only boosts their self-confidence but may also help them work confidently in other tasks.
Teach them self-evaluation
Kids struggle to act confident because there is often an ongoing competition between them and their peer's performance. It's a parent's responsibility to teach their kids not to lose their confidence by competing with others.In the end, what matters is how much hard work you put in to meet a better version of yourself.
Encourage healthy lifestyle
The only way to maintain your overall well-being is through a balanced diet and regular exercise. Convey your kids the necessity of a healthy lifestyle and how it helps in boosting confidence. Living such as lifestyle will surely tap into the 360-degree potential of your kid.
Helpthem overcome fear
No matter how much your tot fears being in the centre of the stage, motivate them to give their best. Active participation in more such activities will not only help your little one overcome this fear but also teach them that making mistakes is just a part of learning.
Also Read : Nurture Positive Behaviour in Children Effectively with Best Preschool in Mumbai
In every situation, whether good or bad, confidence in kids will always help them stay the course. Nonetheless, it's only parents who are capable of hoisting the flag of confidence in them. Andtherefore, with these tips mentioned above, Spring Buds International Preschool In Pune takes a step forward for budding munchkins and helping them meet their true capabilities!