March 26th 2021
Children are highly impressionable beings on the planet. Especially the growing pre-schoolers, who mould themselves according to their respective surroundings and sometimes by copying adults. They learn everything quickly and therefore we need to be careful about what we imprint in their tenuous minds and sow positive behaviour.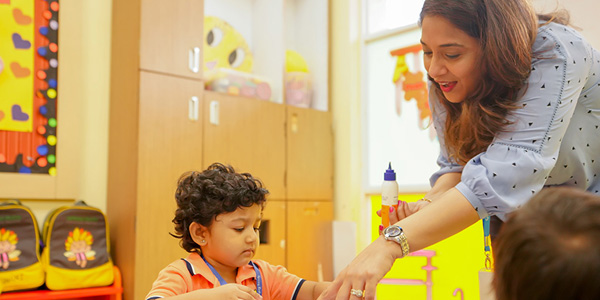 However, if positive behaviour is reinforced in children with an encouraging approach, it will help them in schools, colleges, and finally, throughout life. As an adult, the child will have a better outlook on life because his or her behaviour is positive and possesses no negativity at all.
Thus to help every toddler's parent, best preschool in Mumbai shares the seven most effective ways to promote positive behaviour in children.
Be Firm -
How you deal with the child greatly influences their reactions and how they behave with other children. Hence when a child misbehaves, a firm shake of the head and tightening of the face is enough. Overreactions are almost always going to scar the child and the child might even get social anxiety or other problems that will show up in the future.
Acknowledge -
When a kid does something to help you, thank him or her. in this way, they will follow your footsteps and say 'thank you' when someone else does them a favour. A reward can also be in order. For instance, you might ask the child to help you with a specific chore and reward them with a scoop of their favourite ice-cream when it's finished. This will teach them a lesson about working to earn something.
Do Apology -
When you accidentally step on someone's toe or drop something and make A noise, you should apologize. So the next time a child does something wrong, he or she will have the heart to apologize. By doing this, you teach a lesson to the kid that it doesn't matter if you are older or possess greater authority, If you do something wrong, you should have the heart to apologize.
Explain -
Most parents operate under the thought that children do not understand the reason. That is wrong. When you correct a child for some mistake that he or she made, you should tell them why it is wrong and why such behaviour is unacceptable. Even though the child won't understand it initially, they will gradually over the period.
Pattern Eating -
If you infuse the idea of eating healthily, children will follow. Hence every meal must contain different types of fruits and vegetables with no bargaining allowed at the dining table. Whatever has been severed should be eaten. This will help them avert so many health problems, primarily obesity that is plaguing the current generation.
Top Preschool in Mumbai believes that raising a kid is tough, but raising them right is tougher. Nevertheless, with patience, every child can be taught discipline and develop positive behaviour as learning these things very young will help them get ahead in life faster.
Also Read: 5 Creative Punishments Ideas to all the Younglings Parents