April 22nd 2022
For both children and parents, returning to school can be both thrilling and stressful. It's an opportunity for children to build relationships, acquire new skills, and grow as an individual. It might be difficult for parents to let go and accept that their children are in safe hands. However, with a little planning, you and your child may both feel secure and eager about the next school year! Spring Buds International Play School in Thane highlights the parental tips you'll need for a seamless school transition for toddlers!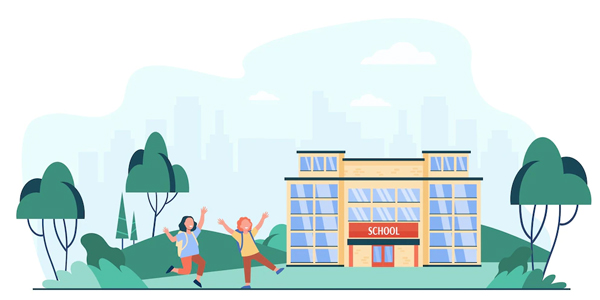 Begin early
To introduce your child to the concept of school, one of the finest parenting suggestions is to begin talking about it before. Discuss what kids can anticipate, who will be their educator, and how their classroom will be set up. This will help them connect first-hand by visualising the scenario.
Negotiate with the instructor
Meeting your child's teacher is one of the most important pieces of parenting advice for assisting your child in adjusting to school. Make an effort to visit the school and start a conversation. Inquire about your child's classwork and how you might help them at home.
Visit the school
Since familiarity builds comfort, taking a school tour with your child prior to the first day is one of the most appropriate pedagogical suggestions. This will assist them in adjusting to their new circumstances. If you are unable to come in person, you can find images and videos of the school on platforms such as Facebook and YouTube.
Discuss what to expect
Discuss what your child expects during the first week of school. Go through the day's timetable and discuss where they'll be heading and what they'll be accomplishing.It's also a good idea to go through the school's goals and policies, such as being punctual and respecting others.
Motivate your child about being themselves rather than trying to fit in
It is natural for children to desire to fit in, but they must understand that they are not made to change for anything at all. Tell your child that they are special and unique because they are themselves. If they are real, friends will seek them out. One of the most essential things you can do as a parent is to motivate your child to be themselves.
Teach them to be self-sufficient
This entails guiding children in learning self-care skills such as dressing and brushing their teeth. It also entails training children in problem-solving and critical thinking skills, as independence is essential for success.
Instil in them a sense of respect
You can tell your child to be considerate as one of the most important parenting lessons. This involves not criticizing or judging others and treating them with compassion and kindness. It also entails accepting accountability for their statements and behaviour. Respect will help your child form healthy relations with others now and in the future.
Also Read : Six Essential Steps for Developing a Child Into a Critical Thinker
Students' academic performance worsens when they are anxious or agitated. They are more likely to follow the rules and behave appropriately if they are aware of what is going on. So, when your child begins school, what should you do as a parent? Make a point of attending all of the required orientations and meetings. Get to meet your child's teacher, review any newsletters that he or she brings home, and keep the lines of communication open. These Preschool in Mumbai tips will help kids not only adapt to new conditions but also concentrate and perform well in school. To put it another way, it will increase their self-assurance and ready them to take on new tasks.