February 22nd 2022
Many parents want their children to grow up to be successful and self-sufficient. Everyone has their own definitions of "successful" and "self-sufficient." However, most individuals think that children who read and comprehend well will succeed in life. It's as basic as introducing your child to books from a tender age to encourage early reading. Here are the top seven ways by Spring Buds International Preschool in Mumbai you can follow specifically to boost the process: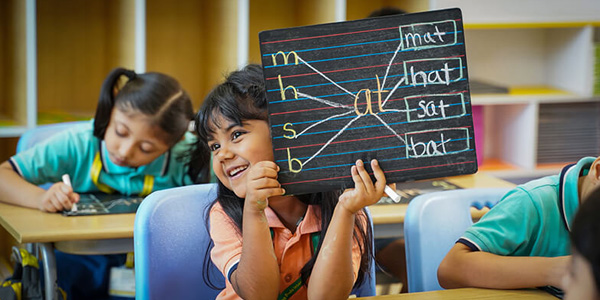 Read stories to your children aloud.
Even though the book may be too difficult for them, the interaction will be enjoyable. More reading will help your kid acquire a love of reading and a better ability to process information. Involving your child in early reading habits will aid in the development of positive behaviours.
Make it a routine to read at night
When your kids are ready to hold books, always leave a storybook opened near their bedside before you cuddle them at night so they can read it before going asleep. This will pique your desire to read before bedtime, which will only increase with time!
Keep screen time to a minimum during the day
Your child's learning will suffer if he or she spends hours on activities such as watching TV or playing video games. Reading can also be used to substitute for screen time. This is a crucial phase in both raising young readers and sharpening their brains!
Prioritize storytime
Set aside particular periods per day to read together, even if it's only for twenty minutes per session. Reserve some peaceful space so that everyone can take turns reading. Never consider the response "I'm bored." Early readers enjoy being in charge. This reading exercise will also allow you to spend valuable time with your loved ones.
Keep books handy at all times
Maintain a book basket in any space wherever your child spends a lot of time, including their bedroom, living room, family room, and even the toilet. It's not necessary to be professional about it. Hardcover picture books aren't the only option for reading material. For this specific goal, magazines or comic books that are related to your child's hobbies will suffice.
Become familiar with the technology
If you want to promote early readers in your house, ensure they have accessibility to audiobooks or Discs so they can hear to it and read stuff, particularly if they have difficulty with phonological sounds.
Encourage your child to read to a household pet
Encourage your kid to read aloud to pets once in a while if you have disciplined dogs who probably wouldn't bother them whenever they're reading. Their voice has a calming effect that will help animals relax and children concentrate on what they are speaking.
Children who can read independently prior to actually starting school are more likely to succeed as readers early in adulthood. Use these suggestions by Nursery School in Mumbai to help your child become an early reader and see them develop into successful adults.