July 20th 2020
While our city is slowly pacing into an unlock with the unlock 1.0, its time that even our little ones unlock their world of knowledge with their schooling. Although educational institutes are still not permitted to function entirely, we at Spring Buds are here to bring your child a virtual world of education with our specially curated and uniquely designed e-learning platform. As one of the best play school in Thane and Nursery Schools in Pune, we promise your child an academic curriculum that not only kick-starts their education even during the lockdown but also bring them at par with their peers as competitive yet collaborative individuals.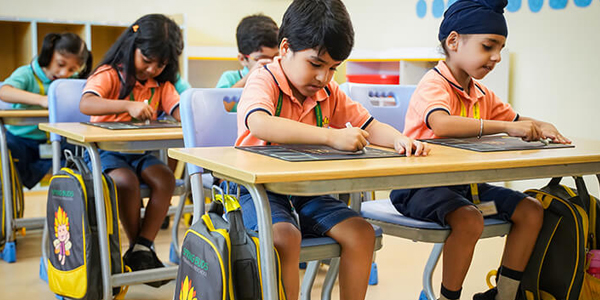 As one of the leading Nursery schools in Pune and Mumbai, we at Spring Buds international bring to your child a focused approach for learning driven by the 4 C's of Creativity, Critical Thinking, Collaboration and Communication. During such difficult times, your child needs the scope for socialising and entertainment and with our virtual classrooms they can get just that. Our classroom sessions are designed such that they not only learn and study but also interact with their teachers, fellow classmates and friends through open discussions and dialogue. We engage your little ones through quizzes, play activities and even art and craft that keep them active throughout the day. At such a young age, play time is very crucial for your child and therefore we, through our virtual play school in Thane and Mumbai bring the play area alive through the digital platform. Birthdays are celebrated, picnics are enjoyed, games are played and even dance sessions are organised by our teachers enabling your child to have the complete classroom experience right from their screens.
At Spring Buds International, we are driven by the ethos of practical education over theoretical phenomenon for the young ones. Thus, our curriculum and academic sessions are designed such that they are not only taught newer things and important concepts but are also motivated to apply and understand them with a practical approach such that they take the concepts with them throughout their lives. In addition to this, our teachers are also empowered to give our students special value education teachings that help them to shape your child into a competitive yet collaborative citizen of tomorrow. From the values of simply sharing their food to even the values of a sustainable lifestyle, we ensure that your child learns it all in order to grow up as a responsible and active citizen of tomorrow.
While, the digital classrooms are here to take care of your child's learnings, we on the other hand are also prepping our schools with the highest sanitization protocols such that we are ready to have your child have a seamless and safe learning environment post the lockdown. Well, the world may have come to a halt with the lockdown and the pandemic, but we are here to ensure that your child's education does not halt with us.