February 13th 2020
While raising a child is one of the most difficult yet fulfilling responsibilities, we as parents always find ourselves doubting our methods, living with the constant fear of whether we are doing it the right way for our child. For many, although infancy seems to be a difficult stage needing maximum attention, according to recent reports, it is in fact the preschool age of a child that defines their future learning and growth and ultimately their entire life. Therefore paying dedicated attention to children during their preschool age becomes a priority for not only good parenting but also for a better tomorrow.
Although this focussed approach to teaching pre-schoolers has been adopted by some of the best preschools in Pune and Mumbai, at Spring Buds international preschool in Andheri West and other locations, we address this need of early parenting with a simple yet effective 4 C Approach. The 4 C approach adopted in our preschools along with our best in class infrastructure makes learning a fun and playful experience helping both parents and children nurture their growth holistically.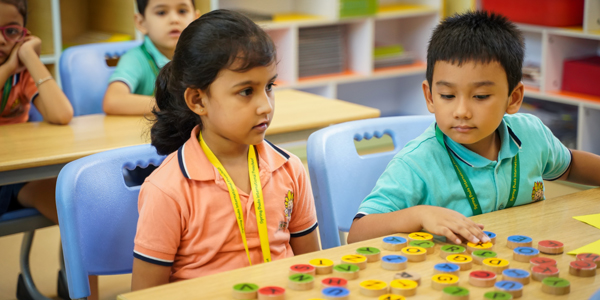 Embedded in our modern inquiry based learning approach, the four C's of nurturing 21st century smart kids are:
1. Critical Thinking
At Spring Buds International preschool in Andheri West, we curate a curriculum that makes learning and critical thinking fun through a practical and application based approach. From activities like pretend plays, theme based subject studies, role plays and excursions we make sure that a child develops their critical thinking through their own sense of inquiry and exploration rather than rote learning.
2. Communication
For a pre-schooler, language and communication skills are highly crucial as they are at the early stage of development of such skills. Parents and teachers therefore need to take proper care when communicating with children at this age with multiple languages, literature, book readings etc. such that it helps them form the basic frameworks of language in their minds. As one of the best preschool in Pune and Mumbai, we provide a digitally equipped and modern infrastructure that makes communication effective through interactive audio video sessions, fun smart board readings, show and tell plays and much more.
3. Collaboration
Apart from focussing on building our students as 21st century smart kids we also work towards fostering 21st century empathetic and good human beings. Our spacious campuses provides ample opportunities to conduct activities and engage students in multiple sports and games where they learn life skills like teamwork, collaboration, empathy, leadership while also learning to compete with others in a healthy way.
4. Creativity
Creativity is the founding stone of inspirations and we, at Spring buds international preschool encourage children to play with their imaginations in order to learn and explore their own view of the world. With fun filled activities like Do it yourself craft, art sessions, field trips etc. we give every child a playground to be their own self and define their own inspirations for their growth.