October 3rd 2020
When there are students from different ethnic backgrounds having different learning styles, it is best to use a collection of study methods. At the top preschool in Mumbai, the emphasis is not on speed but on the right approach to studies. Rather than follow the herd movement in studies, we believe that it is best to foster individuality in the children. They learn the importance of being right and doing good. This will help them become learners for life.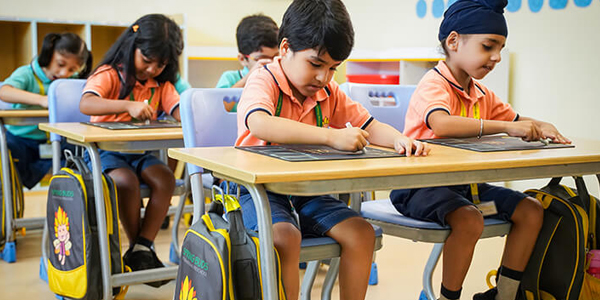 Different Learning Methods
You can see four types of learning styles in Spring Buds International, the top preschool in Mumbai. These are as follows:
1. Visual Learning
2. Auditory Learning
3. Kinesthetic Learning
4. Reading-Writing Learning
Each method has its benefits and helps one specific type of child develop well. So, we use all the methods to get the best benefit of studies.
Visual Learning Methods
This process engages head (thinking), heart (feeling), and hands (doing) while learning. Here teacher nurtures the child through integrated learning that consists of academics, arts, and practical skills altogether. Visual learners use charts and diagrams, pictures, and written directions more than anything else. At the best international schools in Pune, you can see how the whiteboard is the best friend of the student. This kind of spatial learning style helps them develop their acumen. They work best if they begin to doodle on an empty sheet of paper while studying.
Hear and Learn
The second kind of learner is the auditory learner. They learn best when the learning process gets reinforced by sound. The best international schools in Pune help students use recitation and singing to get better at their studies. Reading aloud to themselves will help them hold on to what they learn better. Children who are slow at reading can use this approach.
Learning by Involving
In the kinesthetic learning method, the children act out the things they learn. They use their hands to touch and feel things during their interaction. This method helps because the children will remember what they act for a longer time.
Reading and Writing Method
This method is common and most of us are this kind of learner for the most part. Making use of all the methods might confuse the child. It is best to let the child decide which one is the best for them. So whatever they choose, we instil creativity and let them showcase their inner talents through the following.
Spring Buds International School has always thought of welfare of the students and has gone through alteration at times from mere to modern learning. Resonating higher with the objective of 'Learners today, Leaders tomorrow', we will continue to march towards excellence in the field of education with cooperation of parents.