April 28th 2020
Parents today work day in and day out to give their child a better future and fulfil all their needs and wishes. Constantly being torn between work and life responsibilities, we forget that our child needs us more than the materials we are trying to provide them. Each day passes within the blink of an eye and During their formative years, parents play a huge influential part in their lives. They guide them, inspire them, motivate them and most importantly stay by their sides whenever they need. Parents are also entrusted the responsibility of choosing the top preschool in Mumbai to ensure their child's growth and development. But if a parent is missing in their most crucial part of growth, then it becomes a matter of thought to look after them precisely and think attentively.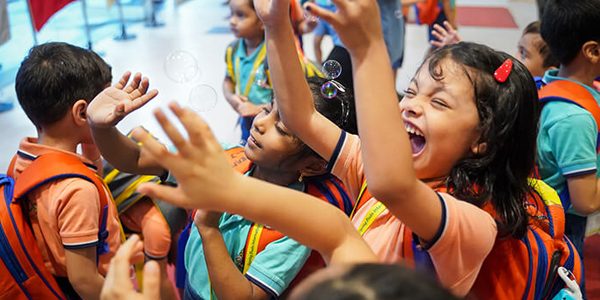 Amidst this global crisis of coronavirus when the world is in despair and under the strict lockdown, it comes as a great opportunity to gel with your kid, shower and pamper them with all the love and affection. According to scientific research, the amount of time parents spend with the children has a huge impact on their behavioural, social as well as emotional well-being and academic achievements. Quality time spent in the whole day is more important than the quantity of time. Parents are the primary caregivers and children deserve high quality time that turns out to be beneficial for the positive impact. Ensure the way you spend time with our child to come out with better results of duo-growth, both parent and the child.
Preschools in Andheri west emphasize on the warmth of relation that a toddler shares with the parent. Hence, top preschools in Mumbai suggest parents to take a leap ahead and make the much needed effort towards their young ones. To encourage the bond between you two, you can create and leave a note in their lunchbox bags, know what fascinates them and choose a bedtime story to narrate, appreciate them when they involve in any activity around the corner of your house, eat all time meals together, feed them and inculcate the table manners within them playfully. Stick around your kid while they're having a bath or playing with some random toys. Participate in it with the same spirit. Develop a friendship and comfort zone with them. Laugh around with them be silly and mentor them seriously to help them learn throughout this phase as it's a mutual growth time process.
In between all the hassle of activities, make sure that technology doesn't interfere or becomes a distraction for your toddler. Let the energy flow with no distraction from exterior of the world. It's you and yours. Draw a meaningful connection that your child always recalls and gets motivated in the toughest or trickiest times of their life. Support each other to lift mentally to make sense to the lifestyle that you're leading. As the connection and invincible thread of a relation remains stronger and impactful when love and support is in abundance because that's the only reassurance your child needs.