December 25th 2020
With growing awareness of extracurricular activities in schools, several parents currently noticed that they are as crucial as academics to a toddler's development. Education is an extensive concept that surpasses the four walls of a classroom. 360-degree development means intellectual, moral, physical and social development. Education lays the foundation for your little one's bright future. Extracurricular activities at school guarantee a balance between syllabus and activities beyond books.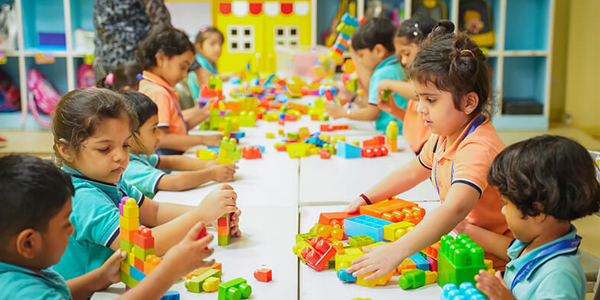 Extracurricular activities refer to those activities that are undertaken side by side with academic learning. They enhance the personality of learners and let them exhibit their non-academic abilities. The type of extracurricular activities in a school states what it is willing to provide for a wholesome learning experience. Below are some vital extracurricular activities in Spring Buds International Play School in Mumbai that help enhance a child's personality.
• Theatre
 Theatre provides a platform for students to channelize their confidence in front of an audience. It helps strengthen student's oral communication skills that are essential for everyday interactions and later, professional life. Being involved in theatre give rise to self-motivation and the ability to work independently. This allows students to make creative choices and express themselves through drama.
• Dance
Dance helps children develop emotionally, socially and cognitively. When they master a tough move, they have a sense of accomplishment that will encourage them to overcome any challenge that comes their way. One of the most vital benefits of dance lessons is that it influences fitness and physical movement among students.
• Music
Music can have a powerful impact on students. Children who have early musical coaching will develop the areas of the brain associated with language and reasoning. While performing, musicians also improve their memory skills that can serve well in education and beyond books too. This extremely relaxing activity keeps the students engaged and interested in the process.
• Creative Writing
Creative writing acts as a passage for students to spill out their thoughts and imagination. Such extracurricular activities at school make sure that they think beyond the technical aspects and mechanical learning. It is an advantageous exercise that can strengthen a child's confidence and let them have their unique opinion.
• Painting
Painting is an activity that makes students feel more empowered and accomplished. Since extracurricular activities in school are performed with a non-competitive motive, it helps students reach individual goals and strengthen their self-esteem. It distracts students from their restless schedules and encourages them to appreciate art.
Extracurricular activities at Play School in Mumbai provides younglings with an excellent opportunity to broaden their perspective of the world. Moreover, participation in such activities can further boost their performance in higher grades and career both. These activities help foster time management as kids juggle both academics and activities together, and add to their portfolio showcasing experience in a particular field of interest. Best Preschool in Pune realizes the value of extracurricular activities and offer a wide range of such activities, so students can challenge themselves, achieve more, and become leaders of tomorrow!