March 25th 2020
A teacher's primary concern is always the learners. However, teaching is not an easy task because it has everything to do with the ability of one's conceiving power and for that the teacher has to understand the psychology of a student's mind. The approach has to certainly be constructive or collaborative.
Pedagogical approach is one of the most effective tools a learner can come across. In this approach, a mentor focuses on curiosity level, complex thinking, potential, and memorizing capacity of a learner. Here educators become co-learners to understand the student well, and the environment becomes the third teacher. It is obvious that everything that we come across in an environment is a stimulus from which we learn. Through pedagogical approach in learning students become more receptive during learning sessions. Participation of the learner rises due to the development of higher cognitive skills. Scientists have found that students behave as they are taught. They represent the actions their teachers have presented the most often. Though learning is social, it has distinctive impact on every learner.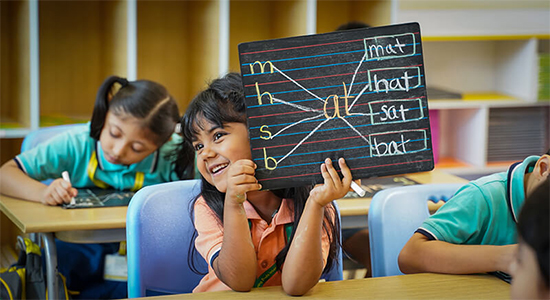 By introducing this advanced learning methodology in the syllabi of pre-primary, primary and nursery levels, we aiming to ignite the fire amongst the young learners. With a blend of academics and technology together, we ensure a holistic growth at spring buds international school. We are one of the best and most advanced pre-schools in Andheri West, whose objective is to inculcate top dynamic aspects in students such as innovative thinking, excellent communication and problem solving skills.
There are multiple pre-schools in Andheri West, who replicate the syllabus to the learners as it is. But what makes Spring Buds International School one of the best nursery schools in Mumbai is that we highly sensitize the mind imprints of a learner while creating the curriculum strategy for the entire year. We do not only have students in high number of strength learning with us but we also have the faith and trust of parents that makes us the most profound nursery schools in Mumbai. We respect the thought of every parent and considerably work towards the teaching pattern and repeat nothing that takes away from the attention of the student.
With a strong belief in the saying, "Learners of today, Leaders of tomorrow", we have always sincerely brought that to force by compelling fascination and discovery together. A holistic learning does not only involve the revision of traditional method of learning but also taking a leap forward with innovation of minds that enforces the vision to be better and greater and we stick to that solemnly.