March 21th 2020
From the traditional methods of learning which took place in a four-walled classroom, preschool education has undergone significant changes over the years. One of the most notable changes, however, is adopting newer, progressive approaches to help young learners develop a strong understanding of basic subjects as well as social skills that facilitate learning in higher grades. The focus has shifted from grades and marks to skills, values, concepts and creativity. Spring Buds international school is among the best preschools in Andheri West and other parts of Mumbai to impart preschool education to young learners using the creative learning approach.
Creativity is turning imagination into reality, and with the ability to perceive the world in new ways, students learn to become problem solvers as they grow. Nurturing creativity in an aspiring learner is vital to facilitate overall growth and development. Creative learning gives the child the freedom to express themselves in various ways. By introducing subjects like language, arts, crafts, music, sports and dance, children learn to channelize their emotions and communicate their thoughts in newer, innovative ways.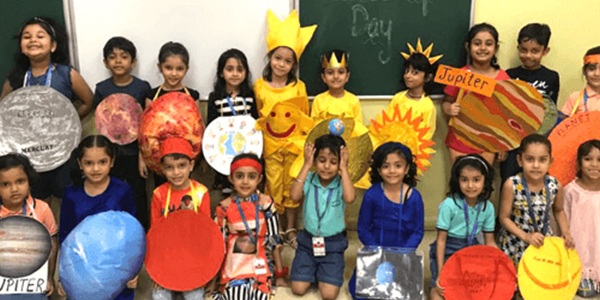 It is important to keep the kids engaged in learning various subjects because boredom turns into burden and takes away the experience of learning something new. Preschools in Andheri West make it their objective to amplify creativity in every process where a child is involved. At Spring Buds International School, we want the formative years to be a light-hearted, fun, and enjoyable learning experience. Our approach to impart the right kind of education to students at a young age has garnered us the title of being one of the best nursery school in Mumbai.
It is natural for parents to want to send their kids to only the best preschool in Andheri West and other parts of the city. So, we make it our responsibility to nurture the children and provide them with an environment that is conducive to creative learning. Our curriculum focuses on helping the children alay the building blocks of holistic development that includes mental, intellectual and physical growth and development. To achieve this, new and unique concepts are introduced gradually to keep the children engaged in every year as they progress to higher education. By means of advanced technology, we inculcate versatility and virtuosity in our young students, that helps them expand their horizons and gain a deeper, clearer and better understanding of concepts.