November 26th 2021
Do you want your child to achieve academic success in primary school? It's never too soon to begin! Parents may assist their children to achieve in a variety of ways. Reading with children, assisting them with schoolwork and checking for understanding, providing positive encouragement when they do something well, and supporting their hobbies are just a few examples. These are just a few steps of how parents may help their children succeed at home and at school. Best Preschool in Thane, on the other hand, offers important parenting advice to assist children to succeed in their approaching primary school years.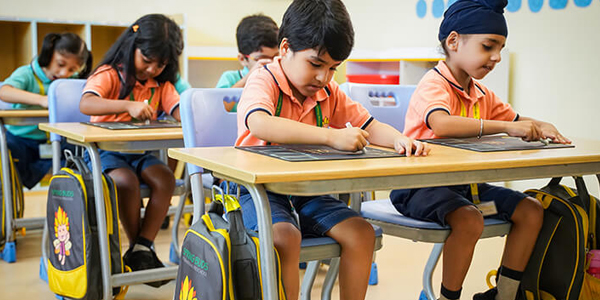 Encourage them to attain the academic goals that you set for them.
Let the teacher know whether you or your kid is pursuing a goal. This may be as easy as passing them an end-of-year flier or putting it on the back of their paper. It's crucial to remember that home and school assistance are mutually beneficial!
Take the time to discuss what your child is learning at school.
Discuss what your child is learning every day at school. This is a fantastic approach for kids to assimilate the material on their own while also assisting you in understanding what they've been working on! Involve them in the dialogue by asking them questions.
When they accomplish something well, provide positive feedback.
Praise your child if he or she completes a task in school correctly the first time. You may express your admiration for their accomplishments. When kids hear favourable comments from their parents, they will continue to strive for perfection.
Participate in open houses or parent-teacher conferences.
Take time out of your hectic schedule to attend open house events or parent-teacher conferences at your child's school. This is an excellent opportunity for you and the teachers to interact. It might help you talk about what's going on at home, such as homework and grades.
If your children don't perform well, try not to be too harsh with them.
While it's important to encourage your children to achieve at a young age, you don't want to be too harsh on their growth. Instead, collaborate with them and assist them in developing a constructive attitude toward school. Children who have a good attitude about learning are more likely to succeed.
Be encouraging, but also give them space to solve problems on their own.
As your child grows older, it's easy to fall into the trap of doing everything for them. You don't want your kids to be completely dependent on you! However, while they're still young enough to benefit from it, you should encourage autonomous problem solving and self-sufficiency.
Preschool in Pune believes that parents are the first teacher while assisting children in succeeding in elementary school. You can't expect kids to be flawless, but by offering appropriate instruction and encouragement, they'll have a higher chance of thriving at this new stage.