December 24th 2020
Be it colouring with crayons or folding paper to create origami designs, multiple art and craft activities that allow students to explore their artistic potential. Art and craft as a subject is often sidelined within the formal education structure and is speedily disappearing. With most of the significance placed strictly on academics, the growing neglect of school art and craft quotient is not unprecedented these days. By introducing school art and craft activities, we at Spring Buds International Preschool in Pune consider it as an investment in building cognitive and social development.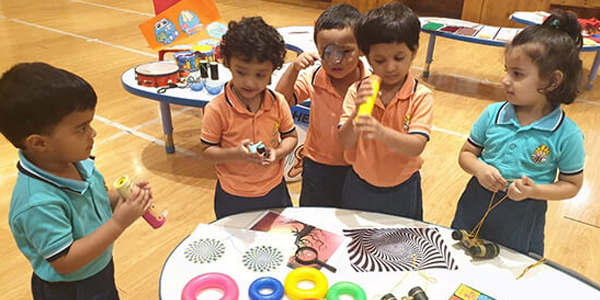 Let us explore the multitude of benefits art and craft can provide and discover the many ways in which it helps your child grow:
Coordination and Motor Skills
 Art and crafts need kids to use each hand in a specific manner that helps them develop fine motor skills and bilateral coordination. Easy art and craft tasks like drawing dots, joining lines or maybe cutting paper with scissors can help them develop these skills quickly and become more efficient in alternative everyday activities. These sessions are also a great time to spend with your child at home and make them learn things such as how to hold a pencil correctly or draw straight lines.
Language Development
Art and craft encourage students to discuss what they made and how. This, in turn, improves their communication skills. The time when your child completes an art assignment, he will tell you all about the effort and creativity behind the task. As children talk about their school art and craft, they develop language skills, which also enhances their vocabulary. These conversations at home will boost their confidence and motivate them to put their best effort. 
 Visual Learning and Memory
Through art and craft, a child not only learns about new figures, shapes, and colours but also improves his visualizing and memorizing abilities that help boost academic performance as well. It's essential for the cognitive feature development of preschoolers. You can brace your child to do crafts at home by other engaging activities. As arts and crafts have no specific standard of judgement, it provides students with a secure place to put forth their thoughts and showcase their creative mind. 
Social and Emotional Benefits
Engaging in art and craft can allow a child to express his feelings positively and productively. Also, being together with other classmates in such sessions provides them with the chance to interact and socialize with those of similar interests. It additionally strengthens the parent-child bond if you guide them to discover the artist within them. These activities instil a sense of satisfaction and achievement in a child, which helps in boosting his self-esteem.
Spring Buds Preschool in Thane takes art education seriously and encourages students to place their inventive spin on whether competition or homework and learn the skill of appreciating themselves. If you are looking for a Preschool In Thane that make your child break free from the norms of traditional learning, SBIS is the highly conventional destination for your munchkin.
So let them learn and grow becoming the creators of their future.