May 25th 2020
Humans association with nature has been since the ages. Nature has been the most influential aspect of human life. It has strongly inspired and motivated in human lives. We believe that nature's growth is equivalent to a toddler. Both need to be fed with the necessary in their initial stages to have stronger roots. Knowing that we humans have always stepped on the environment's imprints, it has now become the need of the hour to impart the same in our toddler's lives. We all are aware of the global crisis that has made us vulnerable in many ways but we need to emerge stronger than this situation to encourage our kids and show them the positive side of this world.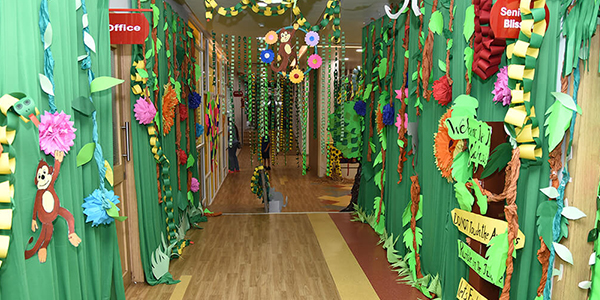 As science has proven that nature is beneficial in many ways such as enhancing attentiveness, building immunity, increasing productivity, and maintaining the overall well-being of an individual, preschools in Mumbai strive to expose young toddlers to such an environment where they are closer to nature and understand its significance. Particularly in this period of nationwide lockdown where the world is prohibited from being social, you can foster their social participation even while being at home. Today each home possesses its own garden space where one can find varied species of plants that may have medicinal properties or are a flower withering plant. What you just need to do is plan out a good healthy activity for your kid that will grab their attention and keep engaged with some interesting and factual knowledge about the environment.
Nature is a truly aesthetic part of this planet and thus, when the world is frown with the brutal hit of Covid-19, show your child the other part of mother earth. Children get really excited about activities that they have never been a part of. Teachers at preschools in Andheri West suggest parents to involve their younglings in gardening by introducing them to each plant and teach them about its characteristics. Tell them about the impact that nature has on living souls. Inform them how nature provides us with ample resources such as wood, fruits, flowers, remedial substances, and most essentially the oxygen to breathe without which homo sapiens cannot survive. Also let them know how nature is a whole different world to many other organisms such as animals and birds who dwell under the shades of huge trees as nature is their shelter.
And finally, ask them to plant a seed on their own, assist them step-by-step until they are done with the procedure. Take appropriate care of this initiation. Ask them to water the plant daily and you can cherish the growth together with your loved ones. Let them witness the noticeable change that will take place gradually. This will make your toddler conscious about nature. They will certainly care more about it instead of plucking a flower off a tree or wasting water which is mandatory for the magnification of a seed.
There are no age barriers to learn from nature. Hence, we, at Spring Buds International School, one of the best preschools in Mumbai aim to bring the toddlers in sync with nature. Acquiring wisdom can be possible from any source and we simply don't want to miss out a chance. Hence, preschools in Andheri west urges parents to link their child with another teacher called nature. As no caliber is greater than that of an instinctive conscience, we believe that nothing better than nature can instill such behavior in your child.