May 23rd 2020
We often tell our children the most influential and informative stories to educate them. We aim to highlight the significance of various aspects of this world. From nature to science, everything that has proven a boon to the societies, we have tried to bring them all in the notice of our young learners. But from where do we tell and share them all this? We read books to them where stories and realities are elaborated. Words become a source of knowledge with some illustrations conjointly. But trying to make them a better and a qualified individual, we forget to state the importance of source from where we are able to transport knowledge for ages.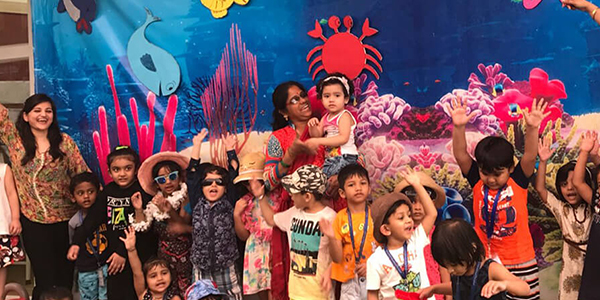 Yes, books are children's best friends. Even when there is no one around, books speak volumes and holds attention effortlessly. Books have the capacity to take them to another world without moving. It is one of the most reliable references that add value to a learner's life. Books are beneficial in many ways. It gives individual a perspective, increases creativity and imagination, improvises memory, instills positive outlook, stimulates the mind, but above all enables a strong sense of language and vocabulary. Especially for the preschoolers, it is vital to have a stronger base setup for literature, as their habit towards reading will make them open and adaptive to various form of theoretical subjects in future.
In this global pandemic where schools are shut down and summer vacations are soon to arrive, it can be a great opportunity for you to expose your toddler at the forefront of literature. You can initiate to read different types of stories or comic books to them. This can be fun and interactive. Then gradually as they are hooked to these daily narrations, ask them to read out and guide them if they are stuck somewhere. Poetry books can be an effective and better idea. Phonetic language and rhyming schemes will make it easy for them to read in a flow. This will make them a thorough reader and they wouldn't be in despair of education even when the schools cannot reach till them.
Home literacy environment is very essential to make your child a life-long learner and a smarter individual. Their fluency in reading and writing will get them better results and prevent them from getting staggered when they become a part of higher education. Thus, it becomes crucial for parents to introduce their toddlers to various languages as well as literature from a tender age. Taking the stream on a higher level, you can timeline two books a week for them to read and express what they've learned as a moral or conclusion. This will additionally enhance their communication skills too and make them self-aware about their likes and dislikes, hobbies and interests, and a lot more.
Today books have become the most interesting medium redefined collaboratively with artistic expressions. This gives toddlers a defined vision of what they are reading. They can read, re-read, and continue to read at any course of time. Hence, play school in Pune are propagating parents to work towards the cognitive quotient of their toddlers as that will add to the objective of nursery schools in Pune about inculcating values amongst the students and lead them towards global success and recognition. No doubt, that literature will only evolve kids in a positive direction.