June 22nd 2020
A child's mind is like a budding plant that needs to be watered sufficiently for the right growth. The overall development is marginalized on the basis of the evoked intellectual quotient in a child. Adhering to the fact that the brutal hit of the COVID-19 pandemic proved to be a huge deterioration of mental as well as physical health, learning in educational institutions too stood at a halt. Children got deprived of accessible freedom to play or interact on a daily basis. But the question is, how are we helping them to regulate and learn in such an environment? Preschools in Andheri West have chalked out some interesting activities knowing that toddlers are unstoppable and enthusiastic fireballs.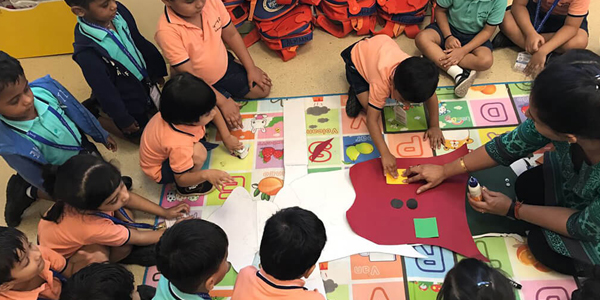 Believing that parents are the real-life teachers, nursery school in Mumbai is bestowing parent with ideas that will help them engage their candy of eye keeping away from boredom and loneliness. Young kids are the masters of the moment. They love the way it feels when they slide crayons or smear paints on paper, fold marble paper into patterns, spreading glitter all over surfaces, etc. So why not tune their feelings with creativity? Fostering creativity won't just help your child develop, mentally, socially, or emotionally but may also boost the ability to analyze and solve problems on their own.
Spring Buds International School, one of the best preschools in Andheri West, suggests the following ideas to have a fun and memorable time with your kid:
1. Drawing images of peers and family
It's been a long time spending some quality time with our near and dear ones. Thus, you can ask your kid doddle flashes of images and moments with their classmates or grandparents and save it to share with them later.
2. Writing a letter to the dearest
Three months and the still on-going nationwide lockdown has proven a barrier in regular interaction with the ones in distance. Thus, you can provide your child with a pen and paper to let them spill all the hearts and smile onto the paper.
3. Recording voice messages
As this lockdown phase has highlighted the importance of virtual interactions, you can record voice messages of your munchkin calling out a sweet message or delivering poetry they want to dedicate their knowns and send it across.
4. Going through albums
This one is simply delightful. Visiting old memory lane with your kid right from their first step, first birthday, first outing, school gatherings, grandma, and pa, and much more will fill their hearts with glees.
5. Making videos
Each toddler is a shining star of his or her family. Making it more interesting, you can make videos of your tot dancing, singing, telling stories, or mimicking companions and families. This will be super fun.
All these activities can prove to be a boon for your child's overall growth and health. It will help your child enhance inter and intrapersonal segments such as perceptive power, rational behavior, advanced vocabulary, and psychological strength. This equally brings the opportunity for parents to explore the pre-schoolers process. Being there for them at every step will bring a sense of comfort in your child and add in building self-confidence. This interactive module of art will invent new ways of thinking in learners, which extends well beyond the craft room time.
Spring Buds International PreSchool has always thrived on quality education for its pre-schoolers and in times like these, will continue to adopt newer, more creative approaches to make sure the learning never stops.