October 28th 2021
Every parent wants the best for their child and nursery school admission is no exception. Parents do their best by keeping track of the form, dates, memorizing all the required documents along with the form, and applying to many schools so that their child gets a fair chance of getting admission to nursery in Mumbai.
While you as parents are busy coordinating dates and timelines, it can sometimes happen that you forget to prepare your child for the interview. It is one of the important steps to prepare your child for preschool or nursery interaction. Your child's performance in that interaction will determine his or her future. It is natural for parents to worry about the whole process. If parents effectively prepare their child for this interaction by making it fun and exciting, the situation can be much less frightening for young children.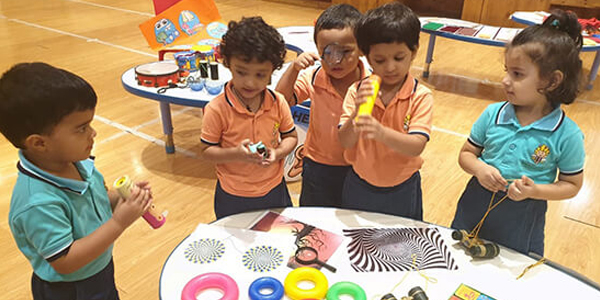 The following tips and FAQs will help parents who are concerned about the first interaction during the admission for nursery in Mumbai. Listed below are the questions that will prepare you and your child for the first-ever nursery school interview.
Tips to prepare your child for their first interview:
Teach them how to greet:
Greetings like good morning, thank you, please, etc. go a long way in creating a lasting impression.
Encourage conversation:
Cheer them to talk to family members, friends, or relatives, especially if they're shy.
Teach them the basics:
Children may be asked to identify numbers, shapes, colours, and alphabets during the interview. Add these basic things to their routine but take it easy, and make it fun and playful.
Stimulate their curiosity:
Allow them to ask questions about things around them and answer all of them patiently.
Common FAQs for Children:
What is your name?
This is the first question the interviewer asks every child during the nursery admission interview process. Your child's answer helps the interviewer to understand your child's responsiveness.
What is your age?
The answer given by your child indicates that your child is aware of himself/herself. Some interviewers may also ask whether he/she knows his/her birth date.
What is this?
The interviewer asks this question by pointing at objects available at that moment. This is important for the interviewer to observe whether your child can identify and name different things in and around themselves.
Which shape or colour is this?
The answer given by your child will ensure whether he/she can identify and differentiate between shapes and colours.
Can you bring that toy?
Your child may be asked to bring or pass on a few things to the interviewer. This is to see if your child can understand and obey the order.
The interviewer can ask your child these basic questions. To crack your child's first nursery entrance interview you need to prepare your child in advance and handle things in a more responsible way. You can ask these sets of questions to your child in a playful manner. This will help them to get admission to playschool in Pune.