August 15th 2020
In the existence of the COVID-19 pandemic, we are all doing our parts by staying indoors and practicing social distancing. Therefore spending quality time in quarantine can be an excellent opportunity. Even when the world has come at a halt, there are no barriers to connect emotionally within the boundaries. Avoiding excessive exposure towards electronic media, you can plan your time thoughtfully and avoid the stress of unprecedented times.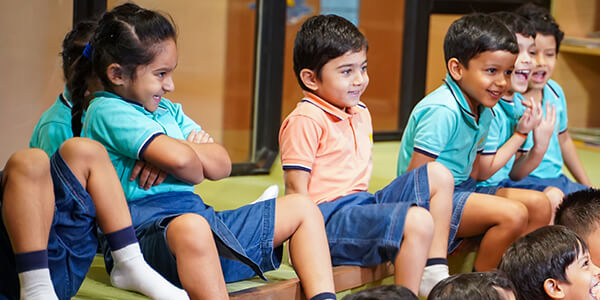 In the current situation where all of us are so occupied dealing with the new methods of learning and working; time management plays an important role in rejuvenating our minds from chaos. Increasing a sense of belongingness among family members, family time can also help individuals to grow holistically in many fundamental aspects. Knowing that children tend to imitate their elders, CPGIS, the top International School in Mumbai asserts on distancing socially and not emotionally.
Here are ten ways to spend productive time with your children that you can explore for a healthier togetherness.
1. Having at least one meal together
Choose between breakfast, lunch, or dinner, and make sure to have a meal together. Don't let your work overtake your quality time. Spend time together as exchange of opinions may strengthen your equation with the child.
2. Exercise together
Following a similar fitness routine with your child can be actually healthy and fun! Any elementary yogasana or exercise will keep them steady and fresh to begin the day. You can also share your views and tips on physical fitness to alarm awareness in their minds.
3. Read interesting books
Choose one book at a time as per your child's preferences. Read it while having evening snacks or after dinner. It can be of any genre ranging from adventure, mystery, fantasy, sci-fi, or comedy. This will enhance communication with the child and will also be a fun informative activity.
4. Cook a delicious meal
Cooking a meal together with your child can be a brilliant idea to spend time as a whole. You can guide them to learn easy and interesting recipes every time you cook. Try and cook that one recipe that's passed on by generations in your family as an added lesson on family values.
5. Clean the house
In recent times, everyone has understood the significance of cleanliness. Hence, dust the corners, change the setting of furniture, and decorate your house well with your children. Uniting your family as a team, this activity will definitely make you productive on dull days!
6. Help children for homework
Get involved in your children's life and monitor their development. Help them with their homework to know what and how much they've learned. Your guidance will not only comfort them but also make them confident.
7. Rearrange stuff
Making children responsible for the daily chores, rearranging stuff can be evidently exciting. Ask them to help you clean the cupboard. You may end up finishing the task by getting back some long lost clothes and various other older stuff. This will dwell a sense of management within them.
8. Go through photo albums
One of the most favourite past time of any family would be going through photo albums. Refreshing tons of memories such as birthdays and annual functions of your child, this activity will ensure lots of laughter and warmth within your family.
9. Share family history
Sharing family history with children is crucial as it will help them build their identities. As many similar elements are passed on by hierarchy, the child would not only get to know about their elders and forefathers but also learn interesting stories about them.
10. Play indoor games
Board games like chess or carom board can be a mood changer during this constant lockdown period. Setting a healthy competitive environment, you can spend maximum time together with your child laughing out loud.
The Best Preschool in Mumbai believes that spending time with the family along with children contributes to learning and teaching new things. It is indeed one of the best ways to avoid being stagnant or lousy. Hence, CP Goenka International School in Mumbai insists on every family and parent-child duo to win against all the odds by staying together and staying productive.