September 25th 2023
When learning is fun, then it becomes very easy. The children's minds in their formative stage are highly active and receptive. The information and education we give to children between the age of 0 and 5 will stay with them forever and creates a basis for their education of these children. Hence, choosing the best international Preschool in Mumbai is critical as their learning influences their behavior, personality, and mindset.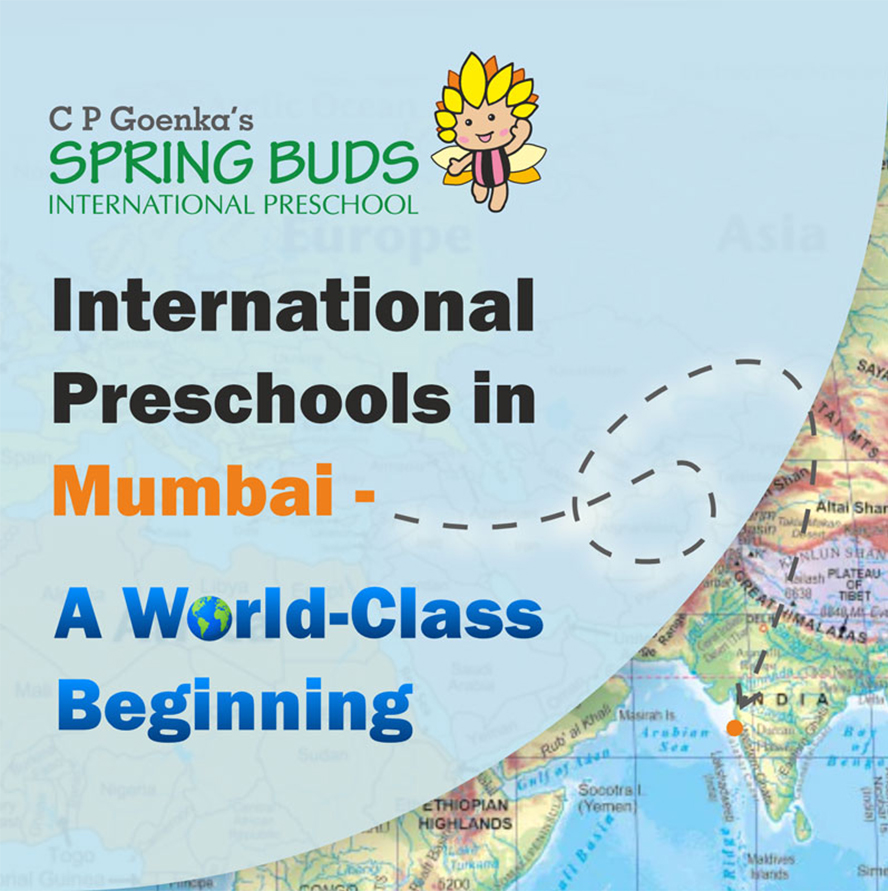 About CP Goenka's Spring Bud International Preschool
Spring Bud International Preschool is a shining example of a preschool that is beyond in offering a nurturing and enriching environment for the younglings. Having a robust reputation for excellence in early childhood education, Spring Bud is the shining light for parents who want the best for their children.
As the best International Preschools in Juhu and Mumbai, their unwavering success is from dedication to quality childhood education. They understand the significance of a child's formative stages and have customized their curriculum to offer a strong foundation for lifelong learning. Spring Bud focuses on instilling a love for education, developing essentials, and fostering curiosity, setting the remarkable stage for future academic success.
One of the remarkable features of Spring Bud International School is the child-centric approach. They have curated an environment where children are safe, comfortable, and curious to learn. With a seamless student-to-teacher ratio, every child will get individual attention to ensure that the unique needs of every student are nurtured and recognized.
At the core of the Spring Bud International Preschool, you can find dedicated teachers who are always motivated to teach students from all backgrounds. This school takes pride in its dedicated team of highly trained and compassionate teachers. These educators possess a deep understanding of the diverse needs of their students. They foster a vibrant and inclusive environment, where children feel at ease, receive ample support, and remain devoted to exploring the world around them. Their invaluable contribution lies in shaping young minds and nurturing a lifelong passion for education.
Benefits Of Choosing Spring Bud International School
Following are the benefits parents will get at Spring Bud International Preschool that are not available in other International Preschools in Juhu or Mumbai:
1. Child-Centric Learning Environment
Spring Bud International School's learning environment is made with the child's development and well-being in mind. The classrooms are arranged to stimulate active engagement with age-appropriate materials, and resources are easily available. Spring Bud believes in learning via hands-on experience, allowing children to develop skills naturally.
2. Diverse and Inclusive
One of the primary reasons for choosing Spring Bud International Preschool is its commitment to diversity and inclusivity. They welcome children from different backgrounds and foster an atmosphere where students learn to appreciate the differences and develop an international perspective. This inclusivity enriches the learning experience and allows children to grow into well-rounded, empathetic individuals.
3. Parent-Teacher Partnership
As the best International Preschool in Mumbai, Spring Bud International Preschool is a firm believer in the collaboration between teachers and parents, as it ensures that children are actively involved in the student's educational journey. This collaboration creates a seamless transition from house to school and back. It helps to foster a sense of continuity and provide robust support to children.
4. Compassionate Educators
Spring Bud International Preschool has dedicated educators and a team of highly compassionate and trained experts who know the unique needs of children. It helps to nurture and create an environment where children are safe and can explore the world around them.
Conclusion
Choosing the best international preschool in Mumbai is not all about choice but a parental priority. Parents must seek schools that not only lay the foundation for academic excellence but also focus on the holistic development of the younger children. With all the schools in Mumbai, Spring Buds International School shines as the excellence beacon.