January 14th 2020
Benjamin Franklin once said – It is easier to prevent bad habits than to break them. This just goes on to show the importance of inculcating good habits in children from early childhood. Kids going to top preschool in Mumbai undergo a playful learning process and they pick up various habits by observing their peers. However, parents must take great care of their child's habits, especially the ones that are not practiced at home.
Play schools in Kandivali East and other parts of Mumbai have started paying more attention to organically inculcate good habits in the students. It falls upon the parents, however, to rigorously work towards ensuring that kids do not fall into bad habit patterns. Listed below are a few ways in which parents can inculcate good habits in their kids attending top preschool in Mumbai: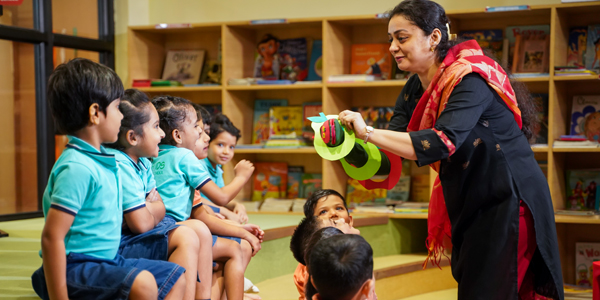 Be a role model
First and foremost, children learn vicariously by modelling their parents because they are the first understanding of the world a child develops. Parents must thus become role models for good habits for the kids to adopt the same.
Set strong ground rules
Early childhood is the time when parents can set strong rules for the child and have a routine for them to follow. Setting rules like limited screen time, fixed hours for meals, homework and sleep time inculcates the habit of following a good, healthy routine as adolescents.
Reward you child
Rewarding good behaviour is an age-old technique in teaching children how to behave themselves. However, this does not mean that the child learn to behave well only to earn a reward and not otherwise. The reward should simply be an encouraging incentive for good behaviour and not a prize.
Encourage family bonding
Many a times, growing children enjoy playing by themselves or with people outside of the family. It is thus important for parents to create an emotionally safe space for the children by encouraging family bonding time.
Kids attending play school in Kandivali East or anywhere in the city is prone to be exposed to various forms of behaviour, media and attitudes. Parents must be aware of the games their child plays, content they consume, books they read and the language they learn in their initial years, since these are the habits that lay the foundation of a healthy adult later.