January 2nd 2020
Pre-schooling is seldom meant for academics. The advantage of sending your child to a preschool is to start the learning process early in order to lay the foundation for their understanding of how the world around them works. One of the most important things that children should learn early on is the skill to collaborate with peers. Some of the best preschools in Thane and other parts of the city create an interesting curriculum for playschool kids to incorporate various lessons. However, the best preschool in Mumbai focuses on collaborative play to impart these lessons.
Collaborative play involves the child learning to negotiate, share, take turns, follow rules and compromise. All of these skills are immensely important during their schooling days and early adulthood. Some of the best preschools in Mumbai imply various techniques to encourage students to engage in collaborative play. Following are some techniques used by Spring Buds International School, the best preschool in Thane.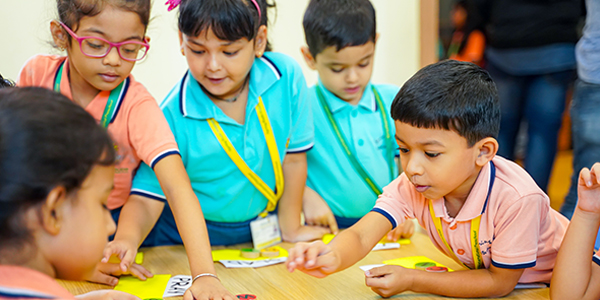 Games that involve building
When children are given the ask to build something, they innately take on roles which 'feel' most suitably in their capacity. Besides giving them an insight into their own skill set, it teaches them to ask for help and/or collaborate with their peers. Building blocks is the easiest and most fun activity for pre-schoolers as it gives them the opportunity to create something out of imagination or something they've seen, deepening their understanding of shapes and objects.
Art Projects
Taking out those pens, paints and papers are a great way to engage kids in working together. The best preschool in Mumbai and other places also let the children paint the classroom walls to their liking, after deciding on a central theme. While working together on art projects, children not only have fun playing with colours, but also learn by observation of other students and their artwork.
Dramatic Play
Dramatic play involves tasks given to a small group or in pairs such as making meals in the play kitchen or playing house. Even maintaining the decorum in class can be assigned to kids in pairs, teaching them to take equal responsibility of the task at hand.
There are many ways a child learns in their pre-schooling years. One of the most important ways is by observation. In order for the child to learn and engage in collaborative activities, the adults in school and at home must set a good example for them too. A particular behaviour taught at school and observed at home helps inculcate a collaborative attitude in the child.