March 31st 2022
Although holidays are meant to be enjoyed, it is equally critical to ensure that your child does not lag behind in their studies. Keeping toddlers entertained and educated during the holidays can be difficult. However, with a little imagination, it's simple to come up with exciting and educational activities to keep them occupied and learning. The Best Preschool in Thane has put together a list of entertaining and instructive Holiday activities for kids: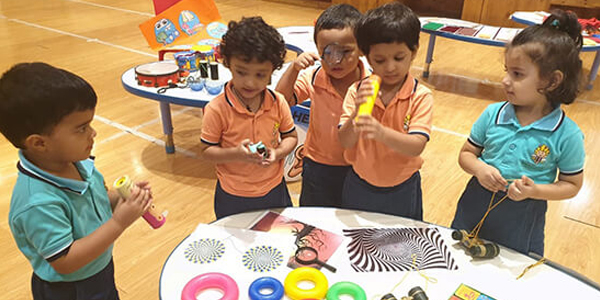 Painting and Craft
Painting and crafting are two excellent methods to engage children while simultaneously imparting them new skills. You can assist kids in becoming extremely creative by splattering colours on canvas, sculpting clay into various designs, or creating a wind fan out of paper.It will also provide you with an opportunity to spend quality time with your toddler.
Organize a Trivia Night
Trivia nights with a holiday theme are a terrific opportunity to bring the family together and have some fun. Kids will enjoy putting their culture, festival, and other knowledge to the test. You can add to the pleasure by giving out festive gifts to the victors. This is an educational Holiday activity for kids that will keep them occupied for hours while also teaching them something new.
Make Holiday Cards
This is another pastime that may be enjoyed by both children and adults.It's a wonderful opportunity to show your nearest and dearest one how much you care while simultaneously teaching your children about greetings and ethics.You may construct them from the start or purchase kits, and there are many unique patterns to select from.
Plan a Scavenger Hunt
With toddlers, a scavenger hunt is indeed a blockbuster. It's a wonderful way to get them out of the house and discover the neighbourhood. You can make the hunting game more educational by asking children to find a specific vegetable or fruit or to collect home décor in a specific colour. This can be exciting while also enhancing their cognitive quotient.
Have a Holiday Gathering
You're ready to go with one of the many entertaining Holiday activities for kids. This is always a great experience, and it allows the students to demonstrate their Holiday knowledge and abilities. You may make it as basic or as complicated as you want, and there are numerous options available online. Just make sure there's enough food, games, and holiday cheer to go around.
Make a Study Schedule
Even when the holidays are in high gear, it is critical to stay up with your studies. This keeps the toddlers on track and avoids any holiday-related diversions. You can either schedule Holiday studies at a fixed time per day or split them up into shorter sessions.
The holidays are a wonderful time to spend with relatives and friends, but they are also a fantastic opportunity for children to learn and develop. Spring Buds International Preschool in Pune can help with the above-mentioned Holiday activities. Try out a handful of these suggestions this weekend holiday!