July 22nd 2020
In an era of rising competitions and growing technologies, having our toddlers prepped up with the best becomes all the more crucial for all of us. From making them well versed with the handheld devices to even getting them equipped with the latest technological advancements in education, it is necessary that we prepare our little ones for their future right from the start. It is keeping with these changes in the lifestyle and technological environment that we at Spring Buds international play school in Mumbai ensure that we give your child the best of all.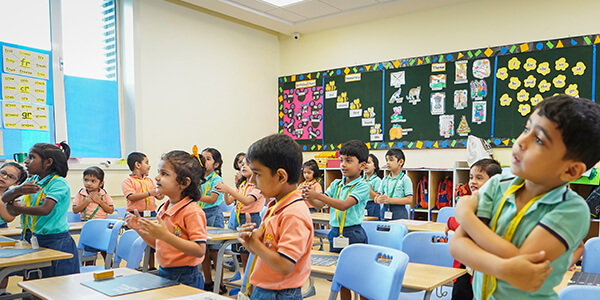 While there may be several pre-primary schools in Kandivali East and other popular suburban areas, there are only a few that are well equipped for your geniuses promising a seamless and conducive environment of education, learning and growth. Well, Spring Buds international is one such play school in Mumbai. Adopting an international standard of education and taking Indian education to a whole new level, we at Spring Buds bring to your child pre-school experience that go beyond the pages of books and the walls of a classroom. Our latest learning approach and our lockdown inspired virtual e-learning platform enables your child the benefits of not only learning from home but also going beyond their comfort zones with art, science and intelligence driven courses and learning sessions. From simple art and craft classes to the much competitive robotics, artificial intelligence and coding courses, with our preschool, your child is sure to turn out into a competitive individual of tomorrow.
We believe that every toddler is born with an inquiry based mental outlook with an inherent curiosity to know and learn about their surroundings. Our courses therefore, aim to tap these curious minds of your child through a curriculum that satisfies their hunger for inquiry while forming the foundations of their further education and learnings. Our teachers are equipped with best in class technologies and teaching methods such that they turn into your toddlers' mentor, friend and guide helping them through all their learning experiences. At such a young age, your child needs the benefit of fun and learning and with our activity and story based method of teaching, we ensure that your child not just enjoy their learning experiences but also apply them into their games and activities with their friends and classmates.
Our pre-primary schools in Kandivali East and other suburban areas also have ensured complete safety protocols in order to give your child a safe and nurturing learning environment free from any disease and harm. While its already time for your toddlers' education to begin, we have also taken to the digital way of learning so that the lockdown does not bring a stop to your child's growth. Enrol them for their early education with Spring Buds international and embark with us on a journey filled with fun, excitement and growth for your child.
Your child is an explorer waiting to be discovered and we at Spring Buds International School are here to drive that passion in them so that they not only become active learners in the future but also active citizens of a global tomorrow.