May 22nd 2020
Every parent's life revolves around their loved ones. They always wish the best for their children and provide them with the necessary to help them outshine. But because life never goes as planned, parents sometimes encounter the most difficult phase in their life when tough situations hit. For example, the contemporary situation of COVID-19 has put us all into highlight where life has become challenging than ever before and everyone is in trouble to plan their daily routine to sustain and survive. Majorly with young kids attending nursery schools in Mumbai who are stuck at home amid the lockdown and are deprived completely from fresh air and playfulness around.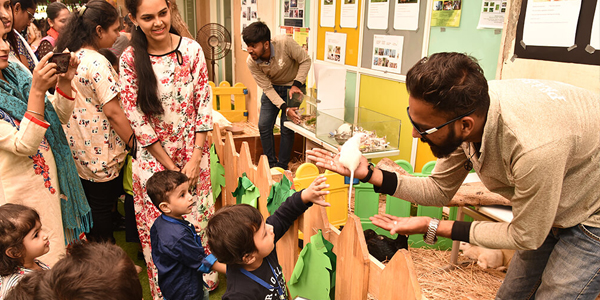 The whole world has been following lockdown for the past few weeks and is clueless about how to run life smoothly. This has become a real-time deal for every age group of members in the house. Focusing more on the parent and the child's duo, it is a pressurizing situation for both to tackle. Wherein, parents are trying their best to give their child a happy and flexible environment, there are still some moments in a day where they lose control of their toddler because of repetitive schedule. Consequently, the toddler gets involved in activities that hamper their development. Constantly sitting in front of a television, playing video games, irregular sleeping routines, etc., can be a road to diversion from a successful growth.
Sometimes parents get too tired dealing with these highly energized munchkins and take their eyes off from them for a while. This is the time where the toddler with no guidance chooses whatever is served on the platter. All-day long performing irregular bits, their sleep timetable shakes hard. They sleep late at night and wake up early or vice versa. This creates an adverse effect on their core development. Unaware about their mental and physical health, parents gradually encounter symptoms in their child such as learning disability, lower IQ, poor eyesight, minimized visual recognition and storage capacity, and much more.
To protect the child from such disorders that have a long term effect, play school in Kandivali East urges parents to sketch out a balanced timetable. No matter what they do the entire day, make sure that their sleeping habit doesn't go out of track. For a fully developed growth, relaxation of mind and body is equally as vital as proactive productivity. So to take over the charge on these tedious days, add elements that excite your kid. Not necessarily all the activities have to be action-based, some can be even brainstorming. Rapid ideation can boost your toddler's emotional and intellectual development.
Children always replicate their elders and when they see you practice and participate just like them, it encourages them to compete with you. A positive drive within them is enough to get through the thick and thin. As an international nursery school in Mumbai, we look at lockdown as the opportunity for parents to get into their toddler's shoes and experience their highs and lows personally. In such times, you need to sensitively monitor their growth unlike we teachers do. Guide them well to follow an intact and solid schedule with no faded colors in their days or mind.