February 7th 2020
Education is all about teaching children how to read, write and then comprehend the read texts in order to understand phenomenon and theories. With reading being the first stage of early education, parents and teachers both begin their teachings for their toddlers with a hope to kick-start their literacy skills and instigate quicker brain development. We believe that by making our pre-schoolers early readers we will help them stay ahead of other kids in terms of their intellectual development and consequently keep them ahead in their lives. At the same time, teaching them early reading also makes us proud as parents of smart kids as we gladly like to show off our kid's abilities to friends and relatives. While this is considered to be a good habit for a child's development, a recent child psychologist report reveals that the right way to ensure proper reading and word recognition skill development in children is to never teach them how to read. Yes, as absurd as it may sound, but according to child psychologists, children do not need to be taught how to read, rather they should be encouraged to learn reading on their own through imitation, experiences and listening so as to ensure their overall skill and brain development.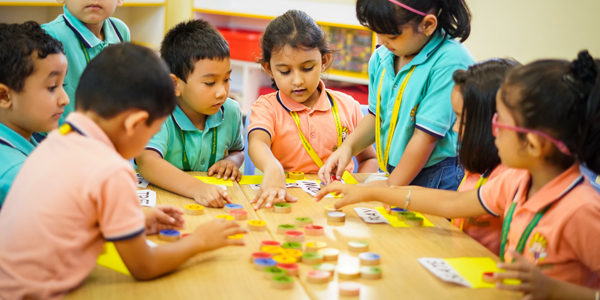 It is keeping with this perspective that we, at Spring buds International Preschool adopt the practical inquiry and story based experiential approach of teaching in all our nursery schools in Pune and Mumbai. We believe that a child's kindergarten years define their future patterns of learning and therefore aim to make it as seamless and holistic as possible. Our uniquely designed curriculum based on offering them an experience based learning and addressing the curiosities of children coupled with our best in class infrastructure has made our students better and smarter learners making us one of the best preschool in Thane, Mumbai and Pune.
From a show and tell format of learning to even an excursion based experiential approach to help students witness the world from their own point of view, our nursery schools in Pune and Mumbai make sure that we let your child play with their imaginations and make their own definitions of the world around. Our state of the art smart classrooms along with an interactive and open pedagogical approach encourages the inquisitive minds of the children to explore details of their subjects thereby helping them understand and remember their learnings better.